Regarding Automotive Innovation, Boring Cars, and Derisive Comments about Capitalism
by Hawke —
published

Apr 11, 2019 12:44 PM,
last modified

Apr 11, 2019 12:44 PM
This came up from a Facebook posting someone made derisively about capitalism in the automotive industry.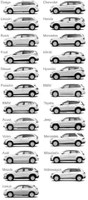 Bland Cars
It is a bummer when we get in these style ruts to be sure! Fortunately ( ? ) styles come and go, driven by the combination of laws (EPA, safety, etc.), consumer current tastes (which are fickle and often resistant to radical changes), artists, engineers, physics, business considerations, and current social trends. Full disclosure, and why this is probably a TLDR response for most: I was a 4x certified ASE technician and instructor at the American Automotive Institute, so have a lot more awareness of the nuances and changes over the decades. You will also currently find other radically different cars in the same class, such as very Boxey variants that just haven't been as popular because they are too "radical" (for now) such as FJ cruiser, AMG G63, Nissan Cube, etc. If you look over the decades you will see where a single company innovated with a new look and approach (for example when Dodge took the then "Radical" change with the new Dodge Ram trucks in the early 90s with the hood fenders flared, etc., and the Viper adding the V10, etc). They were lambasted for changing the look too radically from the by then boring squarish bubbles of the 80's. But when they did well, you started slowly seeing other manufacturers start following suit and begin yet again another dog pile. Also look at the muscle cars, how they have brought back variations in the styling from the 60s compared to the boring bubble versions of the late 70s, through the 80s, and 90s. But they are distinctly more "modern" because of streamlining, and not identical because of modern safety laws requiring placement of headlights, bumpers, seating, dash, almost everything regulated by safety and EPA standards creating great challenges in coming up with more innovative designs while still being compliant with regulations, and then also scoring well on collision safety tests, minimum mileage requirements, etc. Also new environmental and fuel efficiency laws have been a major factor causing boring cars. And finally, what's under the hood and in the cab can be radically different than what is on the surface. Of course,full disclaimer, Also, remember that GM and Chrysler received the same bailout funds with a lot of dictates attached, and between the two companies 5 of those cares are directly owned by them, and many of the others use parts from the others, which is yet another variable to take into account.Certainly for the layperson, on the surface,there are definitely very boring trends that settle in for a while until someone decides to be a disrupter once again (and that the consumer responds sufficiently for the risk to catch on, and then yet another wave of dogpiles thereafter). Cheers! :)
"